In this section of the customer detail page you can see call blocks that are active for this customer. portatour® takes call blocks into account for the schedule, i.e. no calls are suggested on blocked days.
The following window appears when clicking New call block: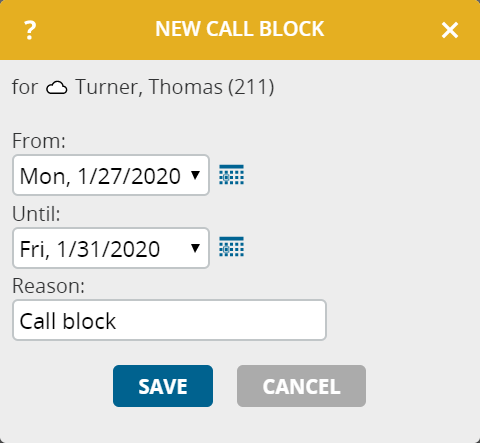 Enter the period of and – if applicable – the reason for the call block and click Save.
By entering a reason you will always remember why the customer is currently not available. You can enter several call blocks per customer, even far in advance. Unlimited call blocks are not possible. In case a customer shall never be scheduled automatically, then set the call interval to None in the Scheduling parameters section. Call blocks are automatically removed once they have expired.
Hint: Fixed appointments with customers will be scheduled in any case, even if the appointment is due on a day with a call block, i.e. appointments in the calendar have top priority.
You can also quickly create call blocks in the schedule and calendar. Click New call block in the context menu of a suggested call (see also Edit schedule and Edit calendar entries).
In case the call black coincides with the day of the suggested call, you will subsequently receive a red warning and should update the schedule.
Another three hints regarding call blocks:
To view all customers having call blocks, click Customers and use the extended search of customers above the customer list. Set the predefined filter Call block to present.
In order to create call blocks for several customers in one step, you can also use the extended search of customers to filter the required customers. Then click the Edit all button and select subsequently the menu item New call block.
If you edit a customer's call block which was created in the same way (same time frame, same reason) for other customers as well, then you will be asked if you want to edit the call black for one customer only or for all affected customers.