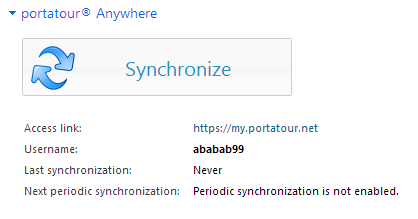 You can find an Access link, which forwards you to the login page of portatour® Anywhere (see section User login in portatour® Anywhere).
Underneath you can see your Username for portatour® Anywhere. The username is provided by portatour®. You need this username to log into portatour® anywhere. Make a note of the username or have your login data sent to your mobile phone or tablet via text message or email (see section Administer access).
The Synchronize button is on the top. By pressing this button, the data relevant for route planning in portatour® will be synchronized between Dynamics CRM and portatour® Anywhere. Make use of this process whenever you have made changes in one of the two systems, and you immediately want to work with the latest data on the other system.
Example: You create a new appointment in Dynamics CRM which shall be included in the portatour® sales-route planning. After having created the appointment, trigger a synchronization. Now portatour® Anywhere is aware of the new appointment and will include it in sales-route planning.
Often, the Dynamics CRM administrator sets portatour® to run an automatic synchronization every night. This is a way to start your day with the latest data without the need for manual Synchronization.
Further below in this section you can see when the Last synchronization was run. Thus you can estimate how up-to-date your data is and whether you should trigger a manual synchronization.
If the synchronization has Never been triggered, click Synchronize.
Ultimately, you can see in Next periodic synchronization, whether and when the next automatic, periodic synchronization is due.
Please note that for displaying the time of the last and next synchronization, the time zone of your web browser is used and not the time zone set in Dynamics CRM. Generally, these time zones are the same.