If you want to quickly get to know portatour®, it is possible to make use of ready-to-use page layouts using a test user or test profile (section Configuring a trial version).
Hint: Skip this step if you installed portatour® for production use. To do so, proceed to the next section.
Hint: This option is not available to Salesforce organizations that are using the Professional Edition. The Professional Edition does not support multiple page layouts or multiple user profiles.
Hint: portatour® does not contain layouts for Person Accounts.
Select a user profile that you can use for tests. You can find these profiles in Setup/Administration Setup/Manage Users/Profiles. In case you are missing user profiles for tests, you can duplicate the profile Standard User and rename it 'portatour test user'. In turn, the test profile will be called 'portatour test user' in the Manual.
Assign a test user to the profile. Select the user in Setup/Administration Setup/Manage Users/Users and click Edit. Set the user profile to 'portatour test user' and click Save.
Sample layouts are included in the portatour® application. Set page layout assignments in Setup/App Setup/Customize/Activities/Event Page Layouts by clicking Page Layout Assignment.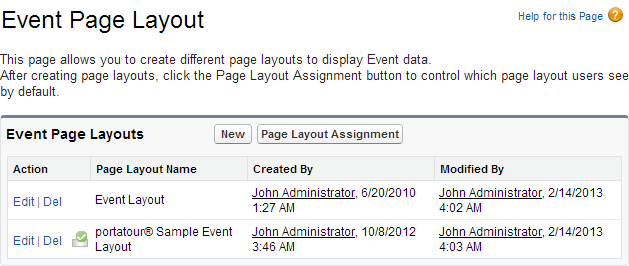 Select Edit, highlight the row 'portatour test user' and drag the relevant Page Layout on top of portatour® Sample Event Layout. Save adopts the layout for the profile.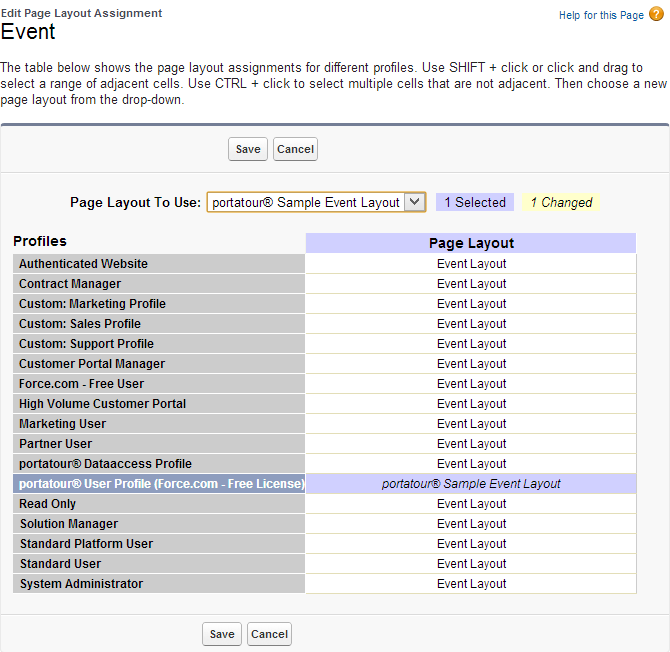 Repeat the same steps for following Sample Layouts:
Setup/App Setup/Customize/Leads/Page Layouts*
Setup/App Setup/Customize/Accounts/Page Layouts*
Setup/App Setup/Customize/Contacts/Page Layouts*
* … Only adjust layouts of objects that are actually visited. See section Accounts, Contacts or Leads as customers.
The Layouts contain elements of route planning which are described in the subsequent sections. Here is an overview illustrated by the example of the Account Page Layout: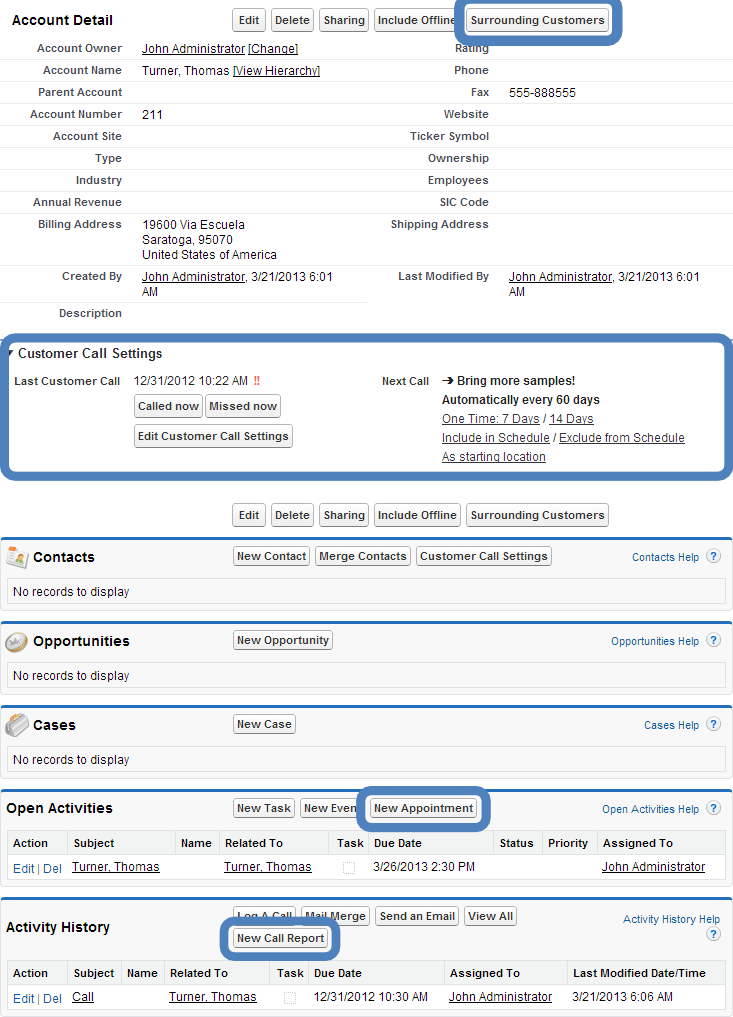 While Sample Layouts are intended for trial use, there are normal layouts assigned to standard users for production use. The remaining points of this chapter are concerned with layouts used for production environments.