If you protocol the call, either on the customer page by pressing Called Now in the call settings section, or on the detail page of an appointment by pressing Took Place: Now, you will be asked (depending on the portatour® user settings), whether you want to create a call report. Confirm this question with OK, a new page opens.
The fields Subject, Date, Start Time and End Time as well as link to the customer are pre-filled: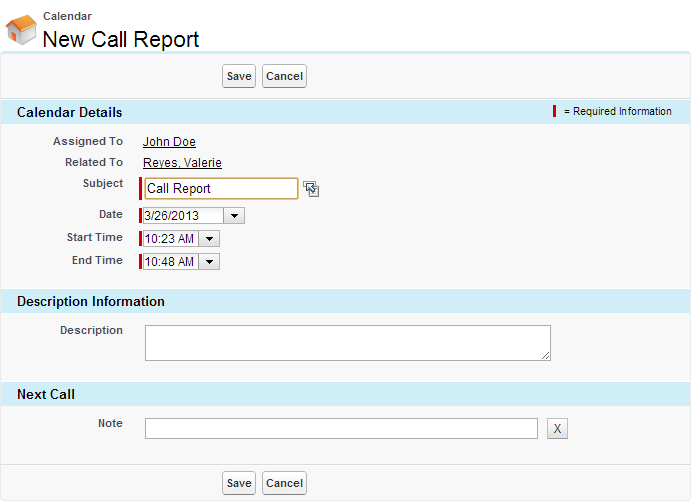 The time is automatically set to the current time minus the call duration configured for this customer. Check and, if necessary, revise call start and end.
Use Description to enter your call comments.
Note is the call note of the customer (see section Next Call). Enter a note that you wish to see when preparing for the next customer call or delete the current note with the X button.
The call report is completed by clicking Save.
Call reports build the necessary basis for the portatour® report (see section portatour® Report). Therefore, always document your calls with call reports.
Hint: If you want to include unsuccessful call attempts ('missed now') in the portatour® Report, enable call reports when missed in the portatour® user settings (see section Call Reports when missed).
Hint: You can skip the question prior to creating the call report by changing call report to create and open automatically in the portatour® user settings (see section Business Rules).