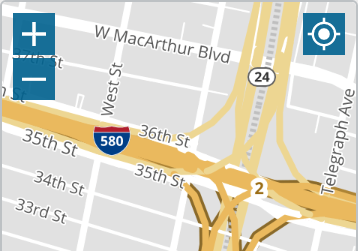 If you want to use your current location and your smartphone or tablet is equipped with a GPS receiver supported by portatour®, click the crosshair icon. Your position will be determined within a few seconds and displayed as address as well as a blue icon on the map.
Typically, this function is used when you want to enter the position of a customer you are currently visiting (see Customer details) or define your home address (see Home location).
After pressing the crosshair symbol you may see a security prompt on your smartphone or tablet. Confirm it to use the feature in portatour®. If there is no crosshair icon in the upper right corner, your mobile device does not support the GPS function.