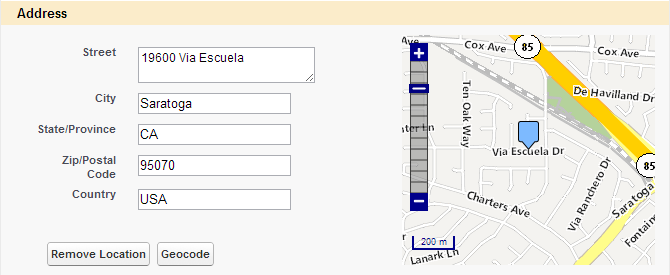 The appointment address can be set independently of the assignment to a customer. There are several options for entering the address:
Enter address manually
The fields Street, Zip/Postal Code, Sate/Province and Country are available. We recommend entering the address as accurate as possible to ensure accurate scheduling. By pressing the Geocode button, the address is geo-coded on the map. Inaccurate addresses are generally accepted by portatour®, a warning is provided (see section Call address and geo-location).
Manual positioning on the map
You can also determine the appointment address directly on the map. To do so, click on the desired location on the map, after having found the approximate location with by using the zoom and slide function or by starting with the Geocode search option. portatour® asks you whether you would like to use a clicked point as call location. If you also want to adopt the location written in the address bubble that pops up on the map, click Use this address.
Lookup a known address from the customer or your home location
In the section Lookup known address, all known addresses with possible reference to the appointment are displayed. If the appointment is already assigned to a customer, all the addresses of the customer are presented, including the call address.

For events that are supposed to take place in your home location, your home address will also be listed, and can be used.
Hint: Use your home location as address if you want to include vacation days in your calendar, on which portatour® shall not schedule appointments.
Click Use this Address to adopt the desired address. In case this address does not have a geo-location (no blue flag), the geo-location of this address will be triggered automatically.
Appointment without location
If the appointment is not location bound – e.g. a telephone conference via mobile phone – click Remove location. This will enable portatour® to schedule the appointment at any location – usually on the way between two customer calls. The appointment thus serves as 'time blocker' where no further calls can be made.