To enable the upload of external files, e.g. photos, Excel files or PDF documents, select the data type External file or External files. The uploaded files are not saved on the portatour® servers. Rather, upon creation you define the custom field on which server and in which directory the files shall be saved. The server must support the WebDAV protocol and be accessible via internet. The data transfer is SSL coded via https. Before the data transfer portatour® authenticates itself on the server by using the user name and password you set.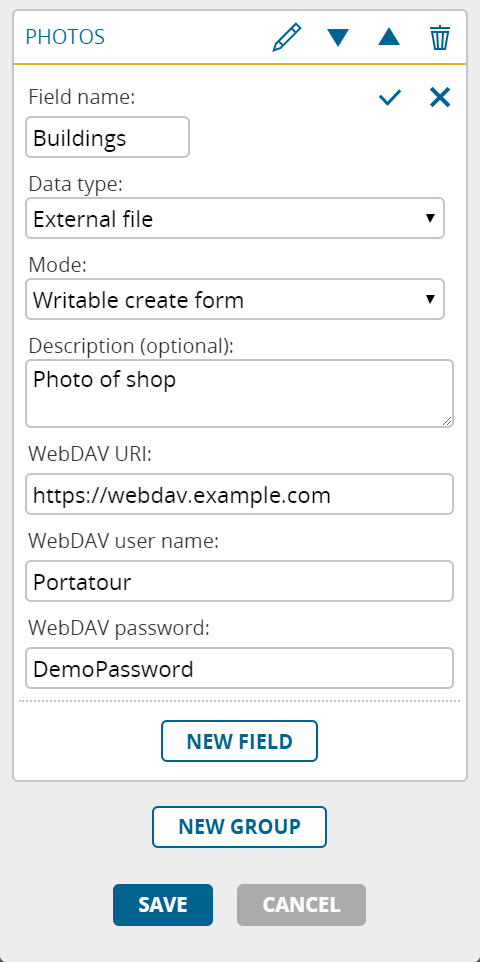 If you do not want to run your own WebDAV server, there are a large number of suppliers on the internet who provide cloud storage with WebDAV access and satisfy the requirements of both individual users and big companies. Normally, the setup can be finished within a few minutes. Search for 'cloud storage' or 'online storage' and ensure the desired supplier supports WebDAV.
Some technical hints for the upload of files:
The maximum size per uploaded file is 10 MB.
You cannot upload files for call reports in the offline mode. Any files for reports must be added retroactively in the online mode.
The files are automatically saved to sub-directories on the server – one directory per user and day. The file names are created automatically and contain the customer name and a clear ID.
If you export call reports as Excel or CSV and files have been included and uploaded for these call reports, then you find the respective directory and file names in the exported file. The same applies to the export of customers and appointments.
The data type External file allows the upload of exactly one file in this field. The data type External files allows the upload of several files in this field.
iPhones and iPads only allow the upload of photos – no other files. This is not a restriction of portatour® but of the device itself.
The memory space on the WebDAV server is your responsibility. portatour® can no longer find files which you delete, move or re-name on the server.