To enable synchronization between Dynamics CRM and portatour® Anywhere for a user of your dynamics CRM organization, create a portatour® user. This user will then be included in the periodic synchronization. In addition, in Dynamics CRM a user interface is available for the user in the navigation area under portatour®, where the user can initiate a synchronization of data manually or enter personal settings.
In Dynamics CRM, navigate to Settings and then to portatour®- Administration. Follow the link portatour® user.
A list of portatour® users is displayed. When the solution is imported for the first time portatour® for Dynamics CRM this list is empty. Add a new user by clicking New.
A form for the new portatour® user is displayed.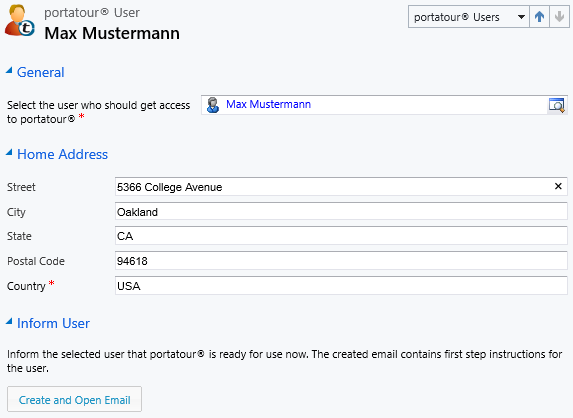 First select the user who should get access to portatour®. After selecting, the address of the user, if available, is reused as the home address by portatour®. The home address can be changed. Please note that it is mandatory to enter a country.
Click on Save to save the new portatour® user.
After that you can inform the user via e-mail that portatour® is now available, and send instructions explaining the first steps for using portatour®. Click on Create e-mail and open. An e-mail is created and displayed for optional editing. The e-mail is not sent automatically.