It may happen that schedule calculation fails due to the error message Customer Data can not be retrieved. This error message is displayed when the portatour® server needs data for schedule calculation or for synchronization of portatour® Anywhere but the connection between the Salesforce Partner WSDL API and your Salesforce organization failed. The most common causes and possible solutions are:
User access to the API
Is the user authorized to access the API?
Check whether the user is assigned the portatour® User static and portatour® User dynamic permission sets.
Access problems of portatour®
Can portatour® access the data of the user?
You can test access through the free Force.com Explorer tool. For Login, use the credentials of the user. Enter the User Name into Username and the password followed by the security token of the user into Password: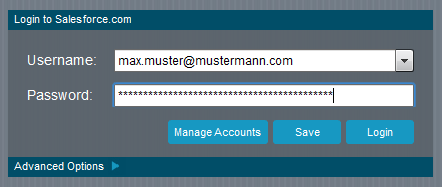 For login purposes, portatour® uses an OAuth token issued by the user instead of credentials of the user, however, with this test, you can simulate how portatour® accesses your Salesforce organization through the API.
If the exception prevails, activate Extended Logging for Data Query Exception (see section Extended Logging for Data Query Exceptions). The portatour® server will then send the exception message including the text of the failed query. If the exception message points towards missing access rights, try to execute the query in the Force.com Explorer with the access rights of the user.