If you need a complete documentation of your working day, you can find a chronological list of all reports you have entered in portatour® by going to the menu item Reports. Here you can check if all details has been entered and edit reports if necessary.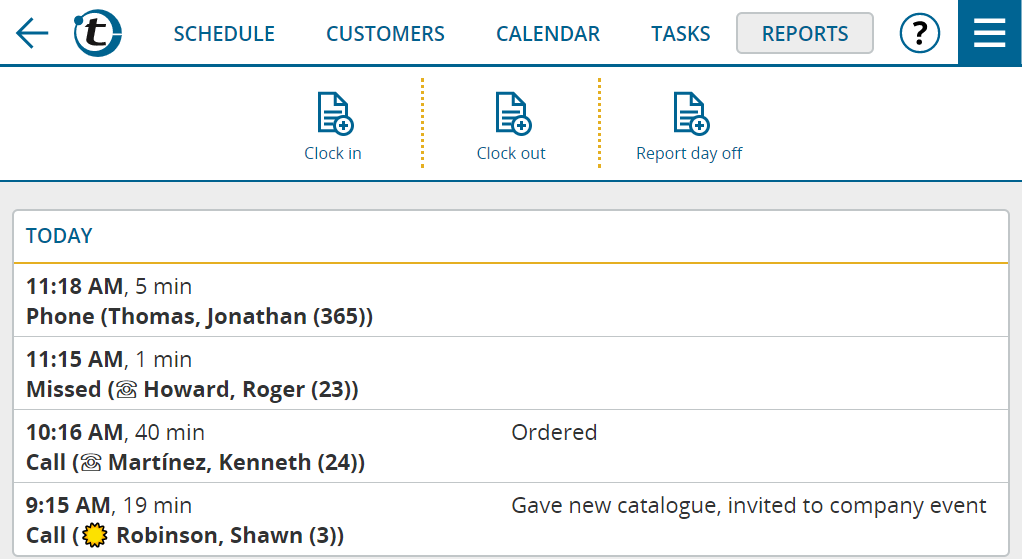 Click a row in order to edit a report, open the respective customer or show all the reports of the customer.
Click the magnifying glass icon to search your reports. The search works the same way as the customer search - see Quick search of customers, Extended customer search and Saved searches.
If you want to use the report system of portatour® Anywhere also for the logging of working hours, click Enter working time and then select Start of work or End of work. Log days without calls (e.g. holiday, illness, training, etc.) by clicking Day off. Logged entries also appear in the portatour® Anywhere report.
portatour® Anywhere also allows the recording of call reports for appointments at manually entered addresses, i.e. without reference to a customer or to My Places. A click on Took Place on the appointment detail page is sufficient to prompt the creation of a call report.
Hint: If under
Options > Reporting > Report creation
Do not create automatically
has been selected, no report will be documented under the menu item
Reports
(see
Reporting
).
Below the list you can access the Calendar or you can request the portatour® Report , Import reports and Export the list of reports. (See also Request Report and Import appointments ).

Either export all reports (selection Complete) or select Limited and enter a period in order to export only reports of this period. This reduces the file size and speeds up the process.