The calculated schedule is shown per day, on a separate tab page.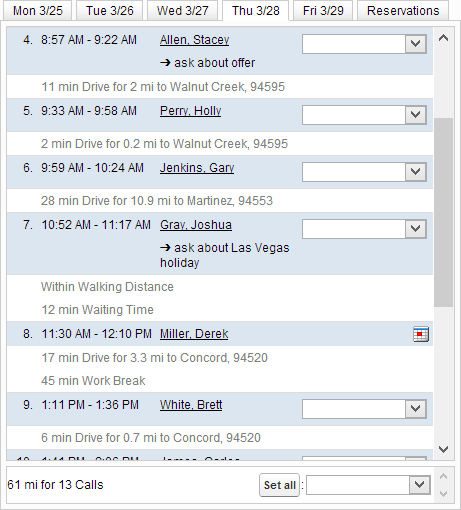 If you have calculated more than 7 days, individual days are grouped by calendar weeks to have a better overview:

The customers that need to be visited are highlighted in blue and displayed with arrival- and departure time. Call duration is either set in portatour® user settings – see section Expected call duration – or separately for each customer – see section Expected call duration. If applicable, the call notice you provided will be displayed next to an arrow below the customer – see section Next Call Note.
Clicking on a customer link opens the respective page. A click on the due time or the position number centers the map view around this customer, a click on the driving time on the selected drive – see section Map.
Between customer calls, the relevant drives including duration, distance and destination are shown. Whenever applicable, work breaks (see section Work Break) or waiting times for customer calls are shown as well.
Appointments without fixed locations (e.g. phone calls – see section Edit appointment), will be scheduled 'on the way' between two customer calls and are displayed as indented.
In the footer, you will find a summary of distance to travel and the number of calls to complete.