Here, you will learn how to start portatour®. In the subsequent sections you will configure the application and learn everything about personal sales-route planning with portatour®.
Login to your Salesforce organization. To use portatour®, open the portatour® tab – it is your central point of access to portatour®.

If the tab is not displayed, there are three ways to open it:
Switch to the portatour® application
Customize My Tabs
Ask the Administrator to make the tab visible.
Option 1: Switch to the portatour® application
Select the portatour® application in the Salesforce App Menu in the top right corner of the web browser to quickly switch from your current application to portatour®: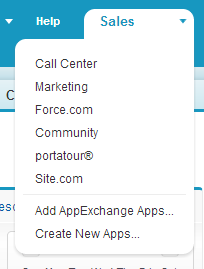 After you have selected the portatour® application, the portatour® tab will be visible. It is possible that other tabs are also visible. Select the portatour® tab.
Option 2: Customize My Tabs
Click on the plus symbol '+' to the right of the other tabs:

Select Customize My Tabs:

Add portatour® to the list of Selected Tabs.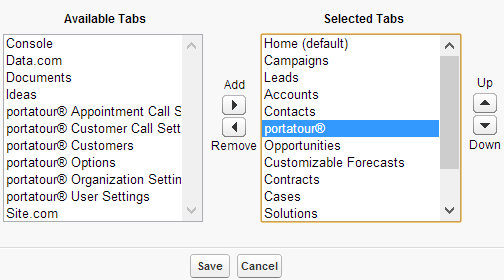 Save. Click the portatour® tab.
Option 3: Customize application
If the methods mentioned above do not work, your administrator must make the portatour® tab visible. Please contact your Administrator.
By now, with one of the three options mentioned above, you should have gotten to the portatour® tab where you can see the portatour® Menu:

The portatour® Menu offers an introduction to the most important functions:
When you first launch portatour® you should adapt the portatour® user settings. To do so, proceed to the next section. After this, continue with customer activation, letting portatour® know which customers you are visiting. These are the most important requirements before starting to use portatour® for personal sales-route planning, as described from section Scheduling onwards.
Access Rights
portatour® requires access to your data to calculate route plans. You will see a permission request when starting to work with portatour®, mostly when you calculate your first schedule plan and synchronize with portatour® Anywhere: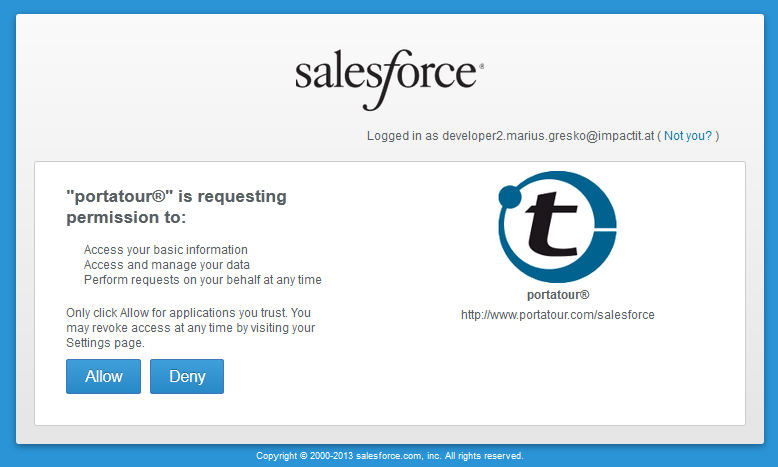 When this question appears, confirm with Allow.