The portatour® customer list provides an overview of customers that you activated for portatour®. It features a table as well as a map. Click Customers in the portatour® menu (on the portatour® tab) to open it.
Hint: Alternatively, you can also add the customer list as a separate portatour ® customer list tab to your personalized tabs.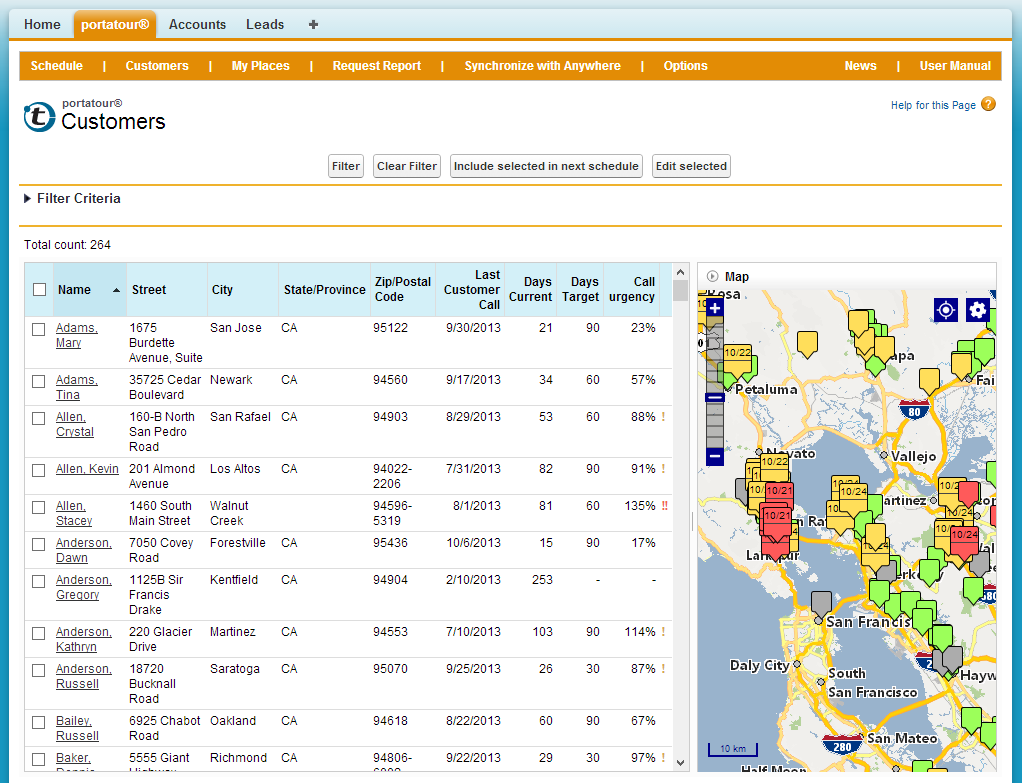 List
All customers activated for portatour® (up to 1000) are displayed on this list, including call-related information. This is:
Name
Address
Date of last call
Days since last call
Desired call interval
Due-date in percent (percentage of elapsed desired call interval)
Due-symbol (see section Last Call)
The list is sorted by customer name by default. Click on a column heading to sort by values in that column. If you hold the SHIFT key when clicking, the previous order will be extended by the new sorting criterion. With this, the list could be sorted by zip code, and within a zip code it could be further sorted by due-date, for example.
In the status line above the list, you see how many customers:
are activated for portatour® in total
are currently listed (see section Customer list)
are currently selected
You can select several customers to edit them en masse:
Individual customers can be selected by ticking the checkbox in the first column or by clicking on one of the cells to the right of the customer name.
Clicking the checkbox in the heading of the first column selects or deselects all customers currently visible on the list.
The button Edit selected opens the Mass Operation (see section Mass editing).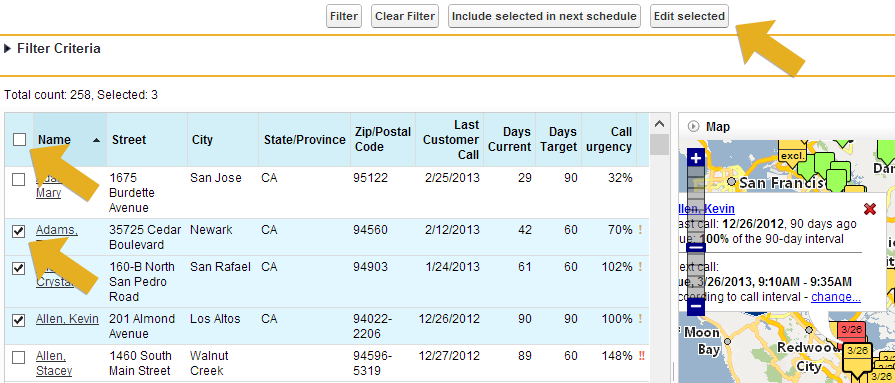 Hint: A maximum of 200 customers can be selected for Mass Operation.
Filter and Search
Use Filter Criteria to narrow down the customers displayed according to various criteria. Using individual criteria you can also search for customers.

Enter the Filter Criteria and then press the Filter button. A click on Clear Filter resets all filters, whereby all customers are visible again.
Tips for setting criteria:
Name: The first letters of the name are filtered. 'Ma' finds 'Max' and 'Peter Mann' but not 'Emma'.
Zip/Postal Code: You can filter by the first digits. '26' finds '2610' and '26900'.
Only selected: The search is restricted by previously marked customers.
Hint: Customers are filtered on the list as well as on the map.
Hint: Selected customers are not deselected by using filters. Combine selection and filter to undertake a complex selection of customers for mass operations.