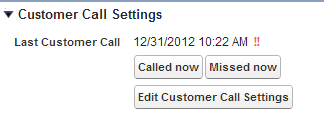 The date of the last customer call is displayed. This date is essential to the automatic scheduling: According to this date and considering the desired call interval, portatour® calculates the current call urgency for this customer.
The current call urgency is visualized by a colored exclamation point next to the date:
No exclamation point – not due

!

–

exclamation point

– due

!!

–

double exclamation point

– overdue
Click Called now to log a call with this customer:
The current date and time are recorded as time of last visit. portatour® will schedule the next call based on this date and call interval.
Any existing reservations of the customer are deleted automatically.
Depending on portatour® user settings (see section Business Rules) you will be prompted to enter a call report (see section Call reporting).
Generally, we recommend a prompt registration of your calls, preferably shortly after customer call completion. Only then portatour® can calculate optimized schedules and effortlessly react upon deviations in your daily schedule.
If a customer could not be encountered, let portatour® know by clicking the button Missed now. Depending on the portatour® user settings (see section Call Reports when missed), you will be prompted to create a call report (see section Call reporting).
Shortly after reporting the call, start a schedule update. portatour® automatically uses the customer address as starting point and does not consider the customer again for the current day.
You can manually change the time of the last customer call in the call settings detail page, in the Schedule Settings section (see section Scheduling parameters).
New customers
For new customers – i.e. customers, where the date of last call has not been entered – you will find the additional field Activated on.

This field includes the date of customer activation for portatour® and will be used for calculating call urgency of new customers. portatour® tries to schedule optimized routes for new customers, within the desired the call interval, starting from the activation date.
For example, a new customer that has been activated for portatour® on the 06/01/2012 with a call interval of 60 days will usually be scheduled between 06/01/2012 and 07/30/2012 at the latest.
The specific day for the first call is selected by portatour® through an optimized schedule – which is also depending on the geographical location of the customer and the current due date of existing customers. After the first call, the call interval is then applied on the basis of the last call date. The activation date field is hidden because it has no further relevance to call urgency.
The configuration of the activation date is possible. If you set the date in the future, scheduling for the first call will happen from that date onwards. If you set the activation date in the past, you generate higher call urgency for this new customer, thereby scheduling an earlier first call.