Create periodic appointments on predetermined days as recurring appointments. When creating an appointment, you will find the drop-down menu Recurring, where you define the appointment to be recurring and select the recurrence rules.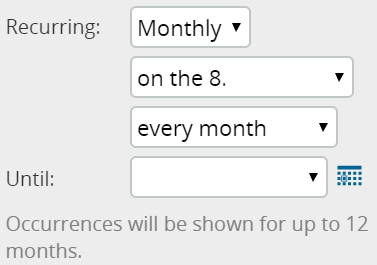 The following scenarios are ideal for using recurring appointments:
Weekly or monthly appointments, e.g. meetings for field reps in the company headquarters or telephone conferences.
Customers who need to be visited regularly (e.g. every other week) on a particular weekday.
Public holidays that recur on the same dates every year.
Hint: Be careful with recurring appointments for customer calls and rather rely on the automated scheduling based on the call interval that has been set for the customer. Recurring appointments offer less optimization potential. In addition, you must manually move them if they take place on a day off (vacation, public holiday, illness).
The end date of a recurring appointment is optional, i.e. if you do not enter an Until-date, the recurring appointment will be repeated until you delete it. For technical reasons, recurring appointments are displayed in the calendar only for the following 12 months. However, you need not take care of their prolongation, they are extended automatically.
If you want to edit a series or a single appointment of a series, click Calendar and select the appointment you want to edit. Click Edit series or Edit appointment depending on whether you want to change the whole series or just this one appointment from it.
To delete individual appointments or the series, go to the calendar. Click the appointment to be deleted from a series and select Delete appointment. If you want to delete the whole series, click Delete series. After a confirmation prompt, the appointment or the series is deleted.
Clicking on the pen icon on the appointment's detail page also allows editing of the relevant appointment or series. A deletion is possible here by clicking on Delete appointment. portatour® opens a menu with the following selection options: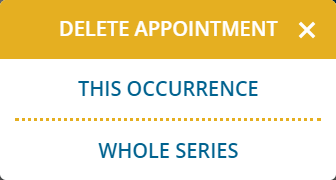 This occurrence: The appointment is deleted from the series, all other appointments of the series remain unchanged.
Whole series: The entire series will be deleted.