Specify the values that apply to the majority of portatour® users in your organization.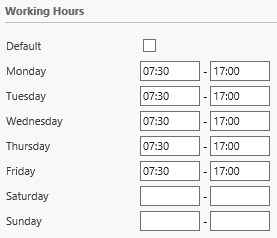 portatour® calculates a personal schedule for several days.
The portatour® factory settings are used as a default. Specify your own working hours by deactivating Default and entering working hours.
Enter for each day of the week the intended departure time from home and return time for portatour® users. On free days without any calls, – e.g. Saturday and Sunday – leave the fields blank.
Note: the working hours apply to the time zone of the user. The configuration of the working hours does not change if a user changes time zone in Dynamics CRM.Example: if a user is in the 'New York' time zone, the specification of the working hours '8:00-18:00' is interpreted as '8:00-18:00, New York time zone'.For a different user in the 'Vienna' time zone, it is interpreted as '8:00-18:00, Vienna time zone'.