Log in to your Salesforce organization as Administrator and select the portatour
®
application in the Force.com application menu. You will be redirected to License automatically and asked to enter your portatour
®
account data.
Account Name
and
Password
identify the license of your organization, which includes a certain number of user licenses. Afterwards, you can activate portatour
®
for your users (see section
User Activation
).
Apply for trial License
In case you do not have a license yet, you can apply for a free trial through Apply for trial License.
Enter your data as well as your Company Data, for which the license shall be granted, in this form. Current details are displayed on the right. Copy these by clicking on each.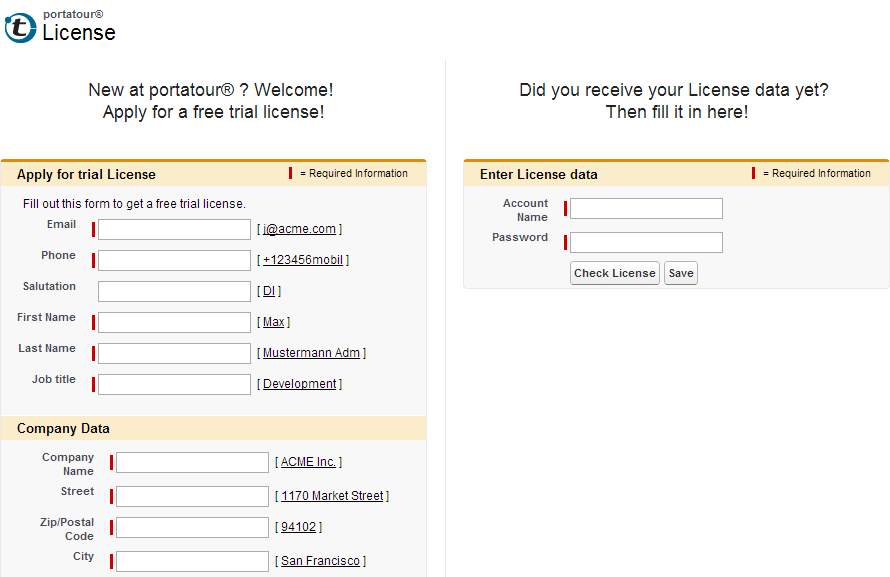 Check or complete all your settings and then click Submit per email. A member of the portatour® Team takes care of issuing trial accounts. On weekdays, the login details will usually reach the specified email address within 24 hours.
Enter License data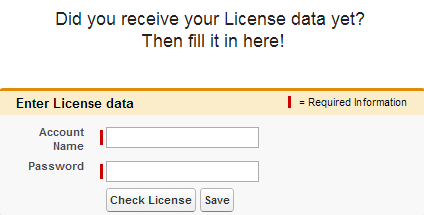 Enter the Account data you received together with your portatour®-License into the Account Name and Password fields. The Password will be hidden on the screen. Keep your Account data safe and do not pass it on to anyone else.
Next, click on Check License. Your account data will be checked by the portatour® Server Farm and displayed as follows:

Contact the portatour® Support Team in case you experience difficulties (section Support).
Save your Account data. Afterwards, you will be forwarded to the portatour® options automatically.