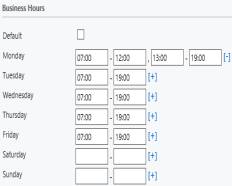 Here is where you enter the default Business hours or call times preferred by the customers for each day of the week. On free days – e.g. Saturday and Sunday – leave the fields blank.
Uncheck Standard checkbox to enter your default business hours. To enter a second time interval, click [+].
Hint: The Business Hours are valid in the time zone of the user.