There is the possibility to automatically activate customers to their owners through a Scheduled Job – such as daily at night – for portatour®. This is recommended, you ensure that newly created customers are considered in route planning, without requiring manual activation.
Select the Objects to activate: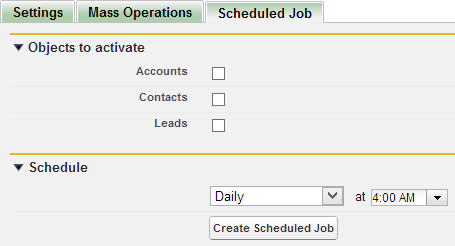 In the Scheduled Job section, you can Create Scheduled Job. Select a time for daily execution or alternatively a custom Cron-Expression. Create the scheduled job with Create Scheduled Job.
This is a Salesforce Scheduled Job (Setup/Administration Setup/Monitoring/Scheduled Jobs). Salesforce information about the Scheduled Job can be found in the Status section.

With Delete Scheduled Job, the Scheduled Job can be removed.
To change the schedule, you need to Recreate Scheduled Job.
The scheduled activation job will be executed by Salesforce at the configured time. The only customers that are activated are the ones that are consistent with the filter rules (section Optional Filter for mass activation) and have not yet been activated.
Hint: Set the filter rules according to the requirements of your field sales force.
Hint: Overall, for every activated portatour® user of your organization and for every further object that remains to be activated, a scheduled job and subsequently a Batch-Apex-Job (always 1 job at a time) will be carried out. The users receive a summary email with an overview with the portatour® activated customers. As creator of the Scheduled Job, you will be notified via email about possible errors that may have occurred in course of the processing.
Hint: During the configuration of Scheduled Jobs, consider that Salesforce currently allows a maximum of 5 Batch Apex jobs at the same time. At least one Batch Apex job should be launchable during the configured timeslot.
Hint: Consider during the configuration of planned activation that Salesforce currently supports a maximum of 25 scheduled jobs at the same time. portatour® needs 2 of them.
Hint: The maximum amount of Apex Batch jobs per 24h is limited to 250 000. portatour® carries out one batch job per user and object to be activated.