Upon activation of portatour® customers, the 'Last Customer Call' field is empty by default. If your organization already includes the date of the last visit, portatour® can use this information for activation.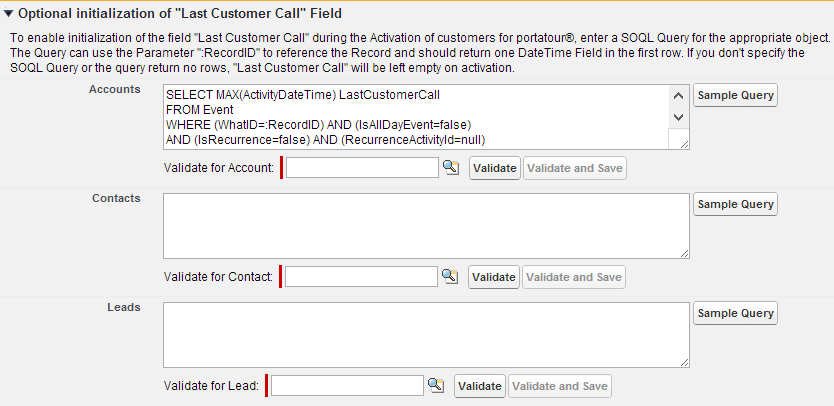 Enter a valid SOQL Query which returns a dataset with a DateTime or Date field type. You can also use aggregate functions or LIMIT. The ID of the respective customer object (e.g. Account) is forwarded through the :RecordID parameter.
Click on Sample Query to use a sample query. The sample query in the screenshot above returns the date of the most recent Activity, which is not a recurring Event, not an all-day Event, not in the future and not older than 2 years.
General requirements for the SOQL Query:
Filter using

:RecordID

Limit the results to a realistic time frame in the past, for example the last year. The date must not be in the future
Exactly one column of type

DateTime

or

Date

Exactly one row should be returned (use aggregate functions or LIMIT)
Example of a Query using a field of type Date:
SELECT ActivityDate
FROM Task
WHERE (WhatID=:RecordID) AND (ActivityDate != NULL)
AND (ActivityDate<=TODAY) AND (ActivityDate>=LAST_N_DAYS:730)
ORDER BY ActivityDate DESC
LIMIT 1
Check the Query by selecting the dataset and clicking Validate. portatour® executes the Query and shows the resulting value. Select Validate and Save to save the settings.
You can adjust additional fields dynamically, see section Using dynamic Data Fields.