If warnings occur during mass activation of the customers, they are stored in the customer call settings for later review. The call address of the customers affected should be checked upon and possibly refined.
Open the portatour® options by visiting the portatour® tab and selecting Options in the menu. Now, click on Geoposition Warnings. You will see a list of all customers affected and the respective warnings:

Select a customer – the call settings page will be displayed. Below the name of the customer, the respective warning is shown:

Further below, at call address level, you will see the warning another time: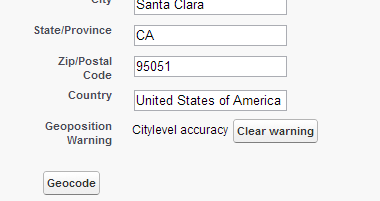 Check the location on the map. If the position is correct, select Clear Warning, otherwise mend the address or location. Save the call settings to confirm.
Check all Geoposition Warnings on the list until it is empty. For tips on how to resolve the warnings, check the previous section Call address and geo-location.