portatour® is aware of current road closures and automatically takes them into account when calculating schedules. As such, necessary detours are taken into consideration when planning driving times.
Display road closures or probability of congestion incl. road closures
Click on Schedule.
At the top, click Map.
In the top right corner of the map, click the cogwheel icon.

Set the Traffic selection box to Traffic: Road closures only or Traffic: Typical for work days.
Roads that are shown in red have a high probability of congestion on work days and are therefore evaluated judiciously when planning travel times.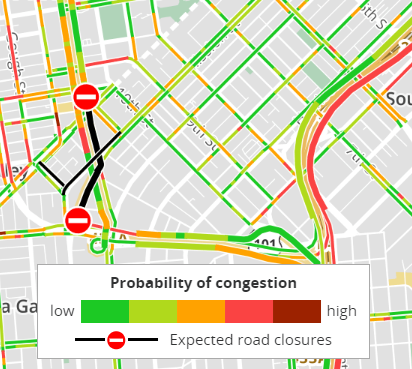 If you have selected Road closures only, only these will be displayed.
Hint: portatour® updates the road closures once a week, usually on Saturdays. When doing so, our traffic data providers also load and take into account future road closures expected for the coming week.
Background
portatour® uses historical speed data for the calculation of driving times. This data is collected by navigation systems and mobile phone providers by measuring the movement data of millions of road users and is provided for respective road sections. Road sections where the traffic flow data often shows congestion or slow traffic are either avoided or planned with longer travel times when calculating schedules.
Further information