portatour® bases its route planning on historical speed data, which have been collected by navigation system and mobile phone providers by measuring the movement data of millions of road users and subsequently providing them for the respective road sections.
If, however, you realize during the daily use of portatour® that you regularly deviate from the scheduled journey times, you have the possibility to go to options and select Driving speed, where you can define your relative deviation from the historical speed data for the three street types City road, Country road and Highway according to your personal driving style. To do so, click Custom settings and change the values.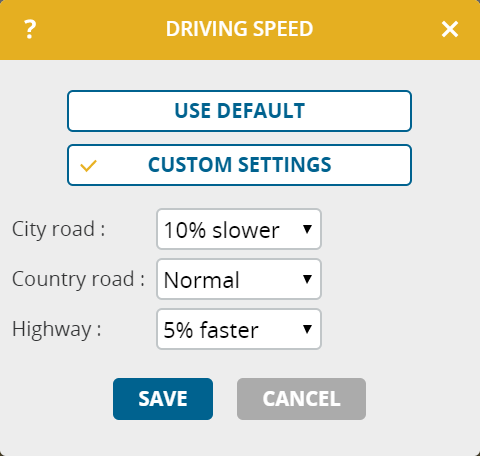 Please note the following:
Normal means that portatour® uses those driving speeds for the schedule which, on average, were historically measured on the respective road sections.
The historical speed data refer to the average driving speed during the entire working day. Temporary deviations on individual sections during rush hours are not taken into account. Likewise, real-time traffic data (e.g. traffic jam due to an accident) are not considered in the schedule.
If you frequently suffer from the 'rush hour', we recommend to set the driving speed for city roads to e.g. '30% slower' in the options. Click Save to apply the changes. Use default resets the speed profile to the portatour® default values.