Note: The customer export function may be disabled depending on your configuration. In this case the export button is not displayed in the user interface.
Go to Customers > More and select Export to export all customers and trigger the download of an export file in the desired format. If you have filtered the customer list via the extended search, you have the choice of exporting either only the filtered customers or all customers.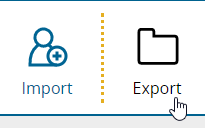 In this way, you can import or mass process your customer data in another program.
If you wish to mass edit the exported file and then re-import it, portatour® includes a second worksheet in exported Excel and Open Document files to save the field mapping. After mass editing, import this file to update your customer data (see Update customers). The Portatour ID column serves as a unique key for re-importing. Therefore, be sure not to delete or edit this column.
Hint: If you choose Simple CSV as the file format, the file will be exported without quotation mark ', semicolon ; or line breaks. These characters are replaced by single apostrophe ', period . and vertical bar |.
Hint: You will also find the customer export function under
Options > Export data > Customers
(see
Export data
).