Create reservations
Make reservations for those customers whom you absolutely want to visit in the following days regardless of their call interval and for whom you have not made appointments. Thus, they must be taken into account for the schedule and will be optimally included by portatour®.
Open the customer detail page of the customer in question (see Quick search of customers). In the Next call section you find the Include in schedule button (see Customer details).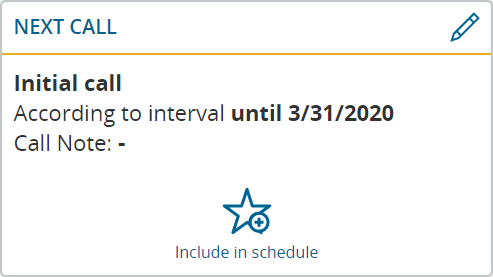 Use this button to make a reservation, which will include the customer in the schedule at the next update and assign a star icon to the call. In order to ensure consistency, you will find this reservation on the customer detail page via the star icon as well as above the schedule when clicking the reservations button.
View reservations list
To see a list of the current reservations, click the Reservations button above the schedule. This list enables you to either see the reservations that have not been included in the schedule so far as well as a list of all reservations - no matter if they already have been included in the schedule or not.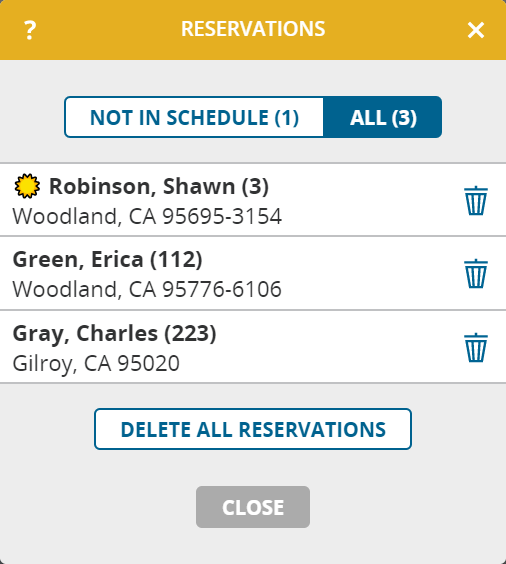 Delete reservations
You have the following possibilities to delete reservations:
Click the Reservations button above the schedule and delete individual reservations by clicking the recycle bin icon, or all reservations by clicking the Delete all reservations button.
In the schedule, open the context menu for an entry with a reservation (right-click the entry or click the arrow down symbol in the right column next to the entry) and select the Remove reservation option.
In the calendar, click an entry with areservation (light blue with blue font) and selectRemove reservation.
Open the customer detail page of a customer with a reservation and click Remove reservation.
To delete multiple or all reservations at once, go to Customers > Extended Search and filter the customer list (e.g. for Reservation: present). Then scroll down and click Edit All X. Select Remove reservations (see sections Extended customer search and Selection mode and mass editing).