Click Schedule in the navigation bar to display the last calculated schedule: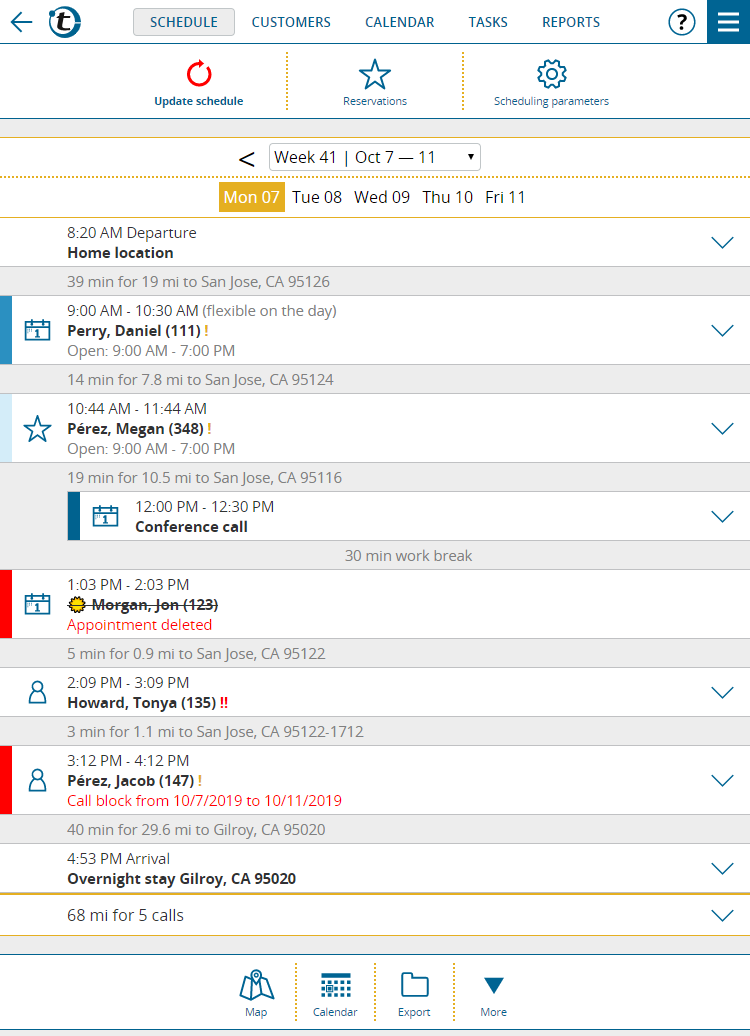 The lines with white background show the customers suggested for a visit and already fixed appointments with arrival and departure times. By clicking on the row of a customer or appointment, a page with a detailed view of the customer or appointment is opened. Customers suggested for calls can be distinguished from pre-arranged appointments through the calendar icon and the dark blue bar on the left of the row.
You can either determine the default call duration in the portatour® options – see Scheduling parameters of customers – or individually for each customer – see Edit scheduling parameters.
If a customer has already been called on that day, they will be check-marked.
Customers' restricted business hours are displayed for the respective day below the customer name. Thus you know what timeframe you have available for the customer call.
The call note you have entered will be displayed below the customer, if applicable, and is complemented by an arrow symbol - see Customer details.
Next to the customer name, the due date (=urgency) of the call according to the call interval is shown with an icon (see Icons in customer lists).
The gray lines between the customer calls show the required drives, including duration, distance and destination.
Hint: Display options for business hours, urgency and drives and how to edit them can be found at
Program settings
.
Where appropriate, the lunch break (see Work break settings) or waiting times are also indicated.
Appointments without fixed locations (e.g. phone calls – see Edit appointment), will be scheduled 'on the way' between two customer calls and are displayed as indented.
If the schedule is not up to date because important data changes have not yet been taken into account, you will see red warnings. This applies to not yet scheduled or changed appointments, deleted customers or new call blocks. In this case, update the schedule by clicking the red update icon in order to take the new situation into account.
The schedule is displayed for one work day. You switch days by clicking the desired date in the title bar. If you have scheduled more than 7 days, the individual days will be grouped by weeks to provide a better overview:

If there are warnings for the schedule, these can be read at any time by clicking on Warnings above the date bar.
At the end of the list you will find the daily summary of scheduled miles (or kilometers) and customer calls.
In the footer below the schedule you have more options:
Further information
To find out which parameters you specify for optimizing your schedule in portatour®, see Calculate schedule.
Update your schedule at any time; see Update schedule for details.