By clicking Schedule > Map you get a geographical representation of the schedule including customers to be called and routes.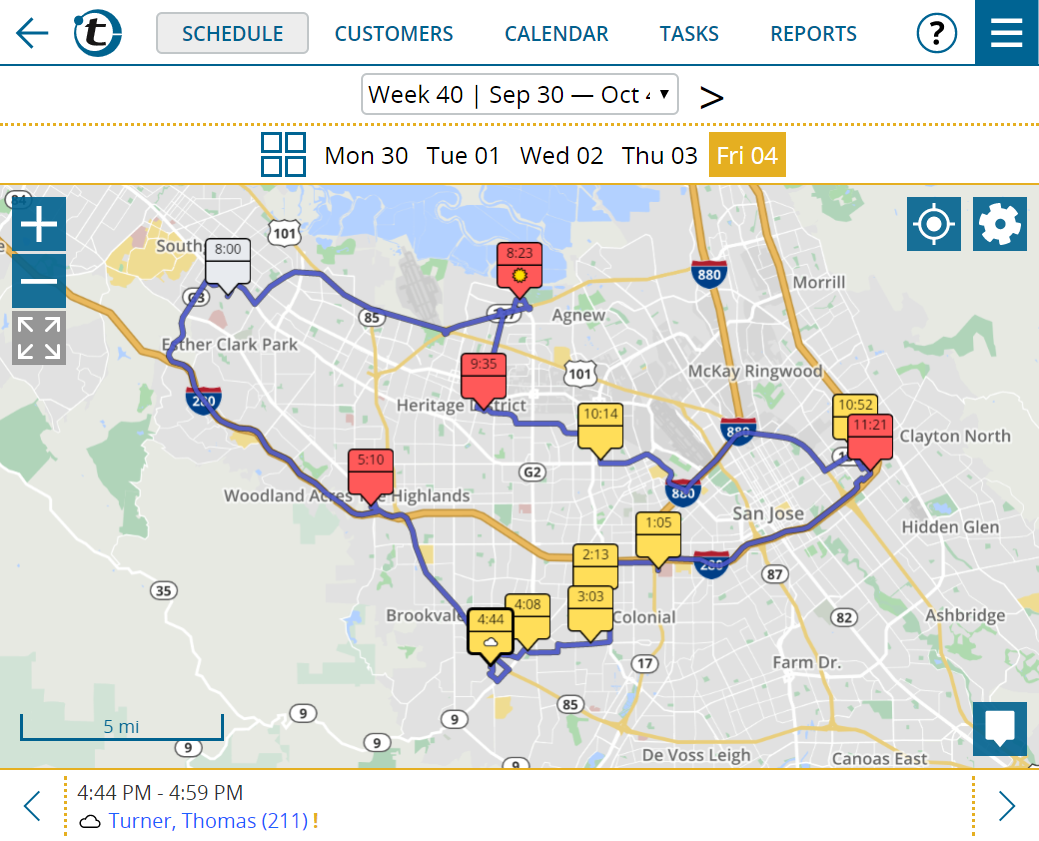 You can move the map by moving your finger on the touchscreen or dragging the mouse. A double-click on a location on the map zooms it in. Alternatively, use the two zoom buttons in the top left corner of the map.
In addition to the '+' and '-' zoom buttons, in the upper left corner you will find the 'intelligent zoom' button

, which switches between important map sections, including the zoom level:
After using the zoom function, this button will take you back to the list view of your schedule.
If you display all customers in addition to the schedule, the button switches between the schedule and the overall view of all customers.
More icons at the top right of the map:
The markers show the customers that need to be called, with the colors indicating the due dates:
| | |
| --- | --- |
| | red = overdue |
| | yellow = due now |
| | green = not due |
| | blue = appointment at manual address |
| | gray = no call interval, or activation date is in the future |
| | light gray = start/end point |
Hint: By clicking the
cogwheel icon
at the top right of the map, you reach the map options allowing you to also change the color setting of your customers (for details see
Customer map options
).
The icon displays the call time and whether the respective call is marked as reserved (R) or as an appointment (A). Please also refer to Edit schedule and Customer map.
The blue line shows the path of the sales-route as actual routes on the road. To switch to displaying beelines, open the map opens (cogwheel icon in the top right corner) and select Driving routes: beelines. If you want to disable the display of the driving routes, select Driving routes: hide.
Click on the desired date in the title bar to switch between days in the schedule. To display the daily routes for the entire week simultaneously, click on the button to the left of the day selection. Individual days can be switched off and on again simply by clicking them.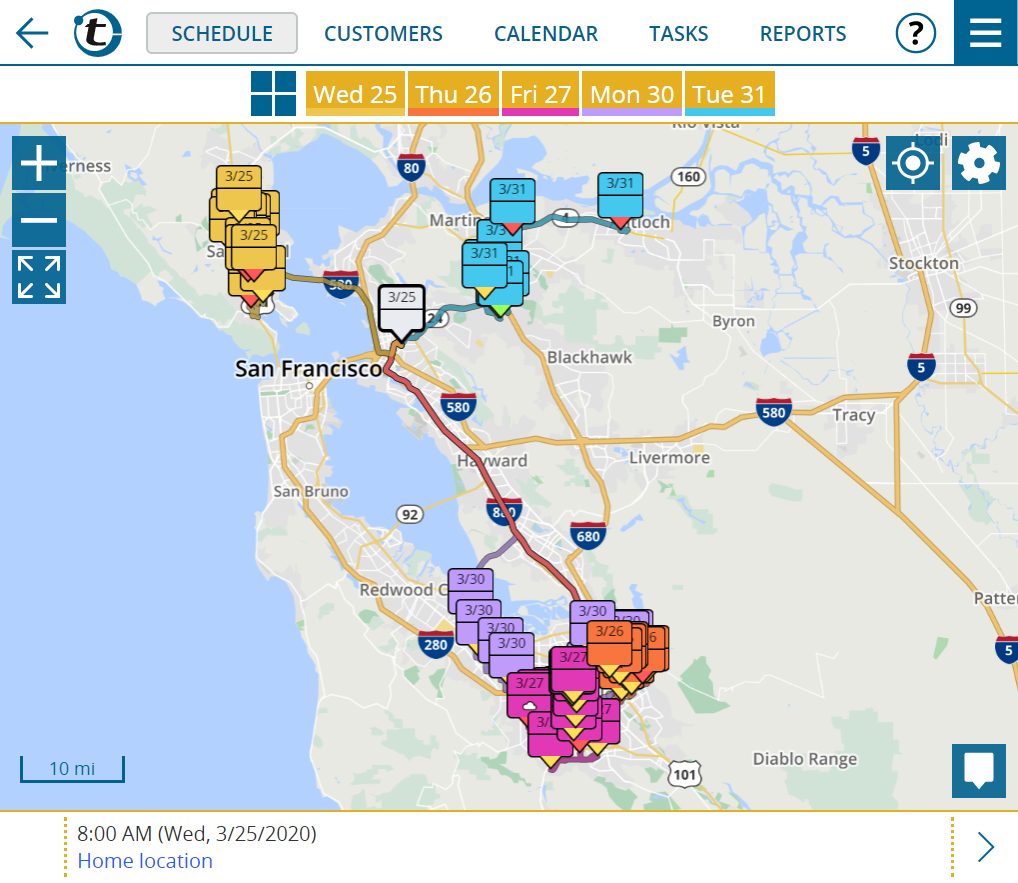 When clicking on a customer marker, an info-bubble appears, displaying summary information about the customer. Another click on the customer or a click on a different spot on the map closes the info-bubble.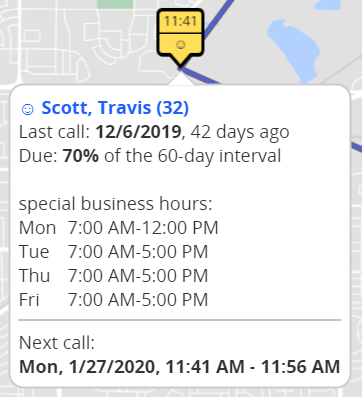 Click the customer name to change to the customer detail page.
The footer shows the currently selected customer or the currently selected drive. The selection is highlighted in dark blue or by means of a bold contour on the map. With the arrow keys '<' and '>' you can navigate to the preceding or following drives and customers according to the schedule. A click on the customer name opens the info-bubble mentioned above.
With the back function of your browser or the

button in the navigation bar, you return to the list view of the schedule.
For more information on the map, see Customer map.